Tinkering with Winboard...
I have played a bit with Winboard source code, and was able to add a few new features to it. Some of them are sort of "platform independent" and should work on the Unix version too (called XBoard), others are related to graphics and work only on Windows.
An almost (!) complete list of modification is in the readme file, just some highlights:
adjudicate computer games, both manually and automatically;
load and save score and search depth info in the PGN files;
new PGN tag to save (and retrieve) "out of book" information for engines;
allows Ctrl-V to paste both games and positions (will be detected automatically);
use bitmaps for squares;
font-based pieces;
enhanced game list window (filters, customizable headers, stats);
move history window;
evaluation histogram window;
engine output window;
"snapping" and "sticky" windows for easy layout creation;
enhanced move highlighting (with arrows);
FRC (Fisher Random Chess, aka Chess960);
Zippy colorization;
...and lots of bug fixes and small enhancements!
Here's what you can make it look like: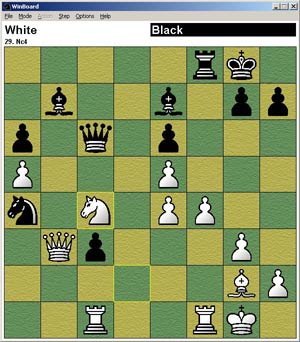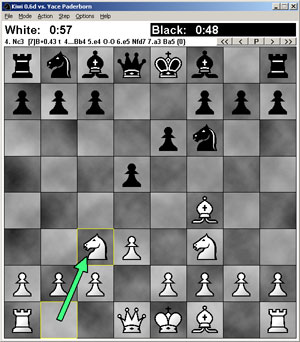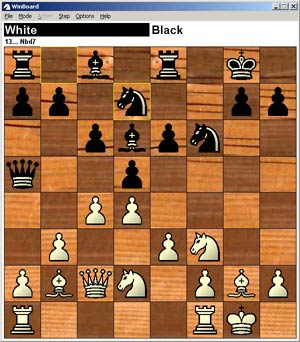 And here's a full screenshot (115K) that shows several new windows and features.
Downloads
Latest version is from Jan 29, 2006. There are now separated archives for the Windows executable and the source code.
Note: this version includes FRC support (FRC base code was developed by Tord Romstad and Fabien Letouzey).
Note: UCI engines are supported with the UCI-Winboard adapter Polyglot by Fabien Letouzey, which can be downloaded from the WBEC Ridderkerk site (click on the Download Page toolbar link). You can help WBEC Ridderkerk hosting this software and much more, including dozens of free engines, by clicking on the Google ads or with a small donation with PayPal.
Themes
Textures and settings to use with Winboard:
Older versions
Jan 12, 2006: Windows executable and source code.
Dec 31, 2005: source code.
Nov 29, 2005: source code.
Winboard "X" (573K, modified sources and Windows executable).
Note: unmodified source files may be missing from the above archives. If so, they can be downloaded from the official Winboard home page.
Copyright (c) 2005,2006 Alessandro Scotti